Motor-CAD is the most complete and integrated electrical and thermal motor design software. Motor-CAD is dedicated to the electromagnetic performance of motors and generators and the optimisation of their cooling.
Motor-CAD enables motor designers to produce optimum designs for performance, energy efficiency, size and cost reduction. Motor-CAD makes the best use of the latest modelling techniques to provide the fast and accurate analysis tool for machine designers.

Motor-CAD provides the ability to quickly and easily perform performance tests on prototype designs. Accurate electromagnetic and thermal calculations can be done in seconds.
The results are presented in an easy to understand form for analysis to allow design decisions to be taken in an efficient manner.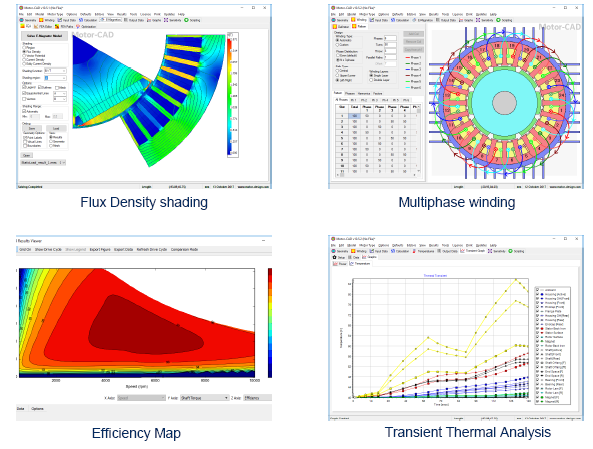 Motor-CAD V11 New Features
The development of Motor-CAD is driven by the need for a fast, powerful and accurate electric motor design tool. There are many new features that will be of interest to existing and new users of Motor-CAD.
A range of the new features added include:
New multiphase winding options for BPM machines.
New static and dynamic rotor eccentricity functionality.
New FEA path interface allowing values to be analysed along paths.
New SYNC EMag and Lab modules.
New SRM EMag module.
New thermal calculation interface.
New RomaxDESIGNER link for drivetrain NVH analysis.
Improved skew functionality with optimum rotor and stator skew.
Improved phasor diagram with voltage limits and filter components.
Improved U magnet geometry with parameters for posts, clearances and segmentation.
Improved BPM Square wave current calculation taking account of inductance variation.
Improved demagnetization calculation and display.
Improved IM equivalent circuit calculation and double rotor cage functionality.
Improved Lab user interface with faster model build using multi-threading.
Added sleeve and rotor banding axial thermal resistances to axial slice model.
Added new thermal conduction paths through end winding potting and new potting options.
Added options to couple different cooling circuits.